LT-03 is a vacuum leak test method, which is performed by submerging the package in a water-filled vacuum chamber and observing for a steady stream of bubbles. It follows ASTM D3078 and is commonly used for sealing tests in food, pharmaceutical, daily chemical, electronics and other industries.
The vacuum leak tester can effectively evaluate the sealing process and sealing performance of flexible packaging parts, and provide scientific basis for determining relevant technical indicators. It can also help to ceck the sealing performance of the test piece after the drop and pressure test.
Test Principle
By vacuuming the vacuum chamber, a pressure difference is created between the inside and outside of the sample immersed in water.
A. The seal integrity of the sample is determined by observing the outward escape of gas bubbles or inward infiltration of water in the sample.
B. The seal integrity of the sample is observed the recovery of the sample shape after the sample expands and releases the vacuum.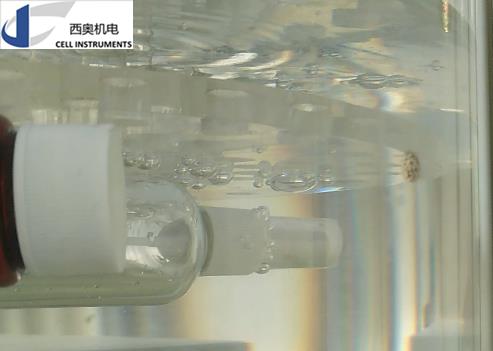 Product Characteristics
Leak Tester LT-03 uses compressed air as the medium, to generates a stable vacuum through a vacuum ejector. The vaccum level is read through the a built-in high-precision pressure sensor. Parameter setting and test control are carried out through programmable logic controller (PLC), as well as the HMI(human-machine interface) touch screen.
The test parameters of test time duration and pressure can be saves in multiple groups, to save the parameter setting time for the same condition test.
Leak Tester LT-03 can automatically record the number of tests and test results(PASS/FAIL) at the same time.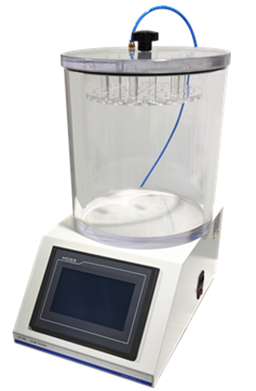 Technical Parameters
| | |
| --- | --- |
| Index | Parameter |
| Pressure Range | 0~-90KPa |
| Vacuum Chamber | Φ270*210(H) mm (Usable space, other sizes can be customized) |
| Equipment Size | 300mm(L)X380mm(W)X500mm(H) |
| Air Source | 0.7MPa compressed air(user-provided) |
Product Standards
GB/T 15171, ASTM D3078, ASTM D4991, ASTM F1585